"Kitschy, clean, and comfortable."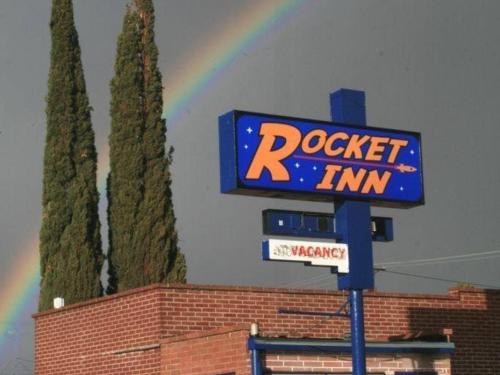 5 of 5 stars    Reviewed June 8, 2015
My husband and I arrived in T or C a day earlier then planned and didn't know where to stay. We were excited to find Rocket Inn, not far from 40. The kitschy aesthetic drew us in and the friendly staff and nice room made our stay very comfortable. The room was clean, the bed was comfortable, and the ac worked well. The staff gave us ice for our freezer and made coffee for us in the morning. They also offer deals on local hot springs. The patio area is well kept and allowed us a quiet space to sit and enjoy the night. We're happy we stayed and would definitely go back.
 
"Quaint, clean, friendly, affordable, ambiance, what more do you want?"
5 of 5 stars    Reviewed June 7, 2015
You have to know what you want. If you want luxury and never have to leave the hotel, move on, but if you want a sweetly redone old historic motel, a quaint, very clean place to rest and shower, and a friendly face to help you with where to spend your left over money from what you save by staying here, this is for you ! They have created a cool ambience in an old motel. I'm a fan of recycling and they have a done a great job restoring this place. Recommend highly.
 
"Very nice stay "
5 of 5 stars    Reviewed February 20, 2015
We stayed in room 5 for several nights. The owners and staff are great and sincerely care about hospitality. The rocket inn is a small old motor court type of motel, but the owners made it very comfortable; the rooms are very clean, nicely decorated with details and quiet. The little sitting area off the parking lot was surprisingly pleasant and we enjoyed it. The town of TorC doesn't seem to try to be the best that they can be, but the Rocket Inn is an exception as they obviously care about doing everything as best they can. I much rather stay here than some of the the "historic spring " motels.