About the Rocket Inn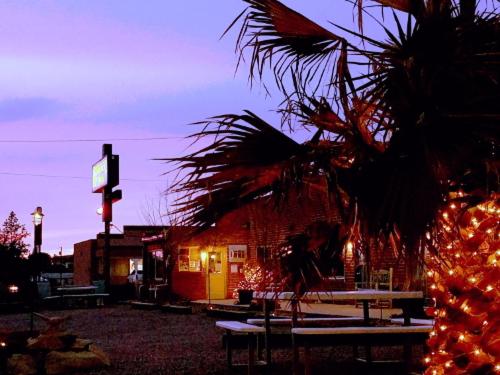 Our air-conditioned rooms include free WiFi and 32" HD-TVs. For your comfort, your private bathroom includes a shower, free toiletries, plush towels and a hairdryer. Free onsite parking is available outside your private entrance in our single-story motel. All rooms come with microwave and refrigerator. All rooms non-smoking.

CHECK-IN: 3pm - 9pm Mountain Time. Call early for late arrival. Early check-in or late check-out additional fee.
Pet Policy: Dogs only. See DOG FRIENDLY tab above.

Located near historic bath-houses, cool shops, fantastic eateries and TorC Brewery! Five miles to Elephant Butte Lake and 12 minutes to Caballo Lake. Enjoy other nearby activities such as golfing, cycling, tennis, bowling and fishing. Friendly and knowledgeable concierge service available. We'll help you find your way around town.

Nightly rates start at $67 for a weekly stay (call for special rates). Ask us for discounts to hot spring spas.

Check for specials monthly. See our reviews at the "What Guests Say" menu and on TripAdvisor. Book direct and save!
Quality assured since 2012 by the Wilkes family.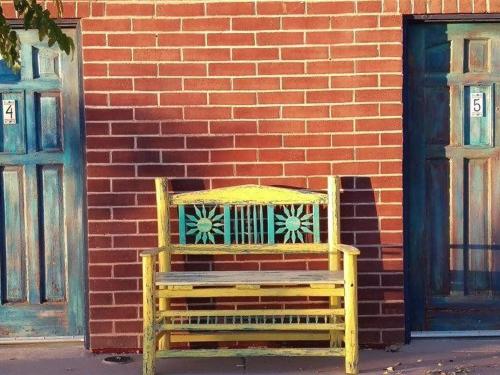 Don't let the name Rocket Inn fool you; we are not kitschy or plastic. Our name is a nod to the sci-fi of mid-century when this motel was built, as well as to the modern science of rockets launching from the nearby Spaceport America and White Sands Missile Range. When we first started this restoration, we had the infinite potential of a blank canvas. We scraped the old building down to the bones to reinvent the vintage motor lodge.
New Mexico Magazine names Rocket Inn as one of the "Things to Love"
"20 Things to Love about Truth or Consequences
5.
Something Borrowed, Something Blue
A stop along the migration route for snowbirds, health seekers, and travelers since its founding, T or C has its share of historic tourist courts. In recent years, new owners have renovated some of these properties to blend their historic character with more modern tastes. In 2011, Val and Cydney Wilkes purchased the former Red Haven Motel, a property originally built in 1948. Val, a general contractor, did much of the restoration herself. Today, the red bricks of the renamed Rocket Inn shine in the morning sun, and the cozy rooms offer a calming ambiance. The name nods to the history of rockets in the state; the room names expand on that promise: among them, Apollo, Jupiter, and—defiantly—Pluto. 605 N. Date St.; (575) 894-2964; rocketinn.com"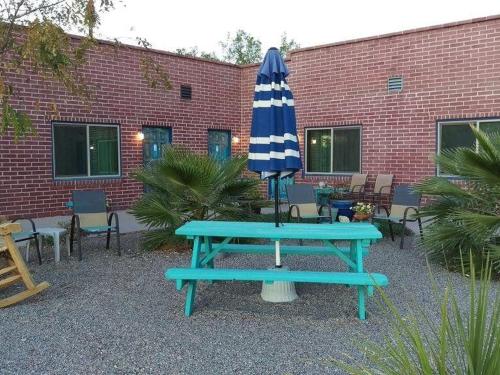 We respect the history of the classic motor lodge in our culture. Our goal was to stay true to this simple style of lodging, which offers the traveler convenience and comfort, yet blend modernization with a peaceful aesthetic. We feel that architecture, décor and environment can be brought together in a harmony and continuity to create calm.
In keeping with "less is more," our rooms are simple: big comfortable beds, large step-in showers, basic pantry space, table and chairs. Yet all rooms are modernized with flat screen HDTV, microwave and fridge tucked away, plus plenty of power outlets and WIFI to satisfy the 21st century needs. We have made pleasing, simple surroundings our choice of design when creating the unique environment that is Rocket Inn. We keep the traveler at the center of our process as we bring our vision to life.
Close to the Hot Springs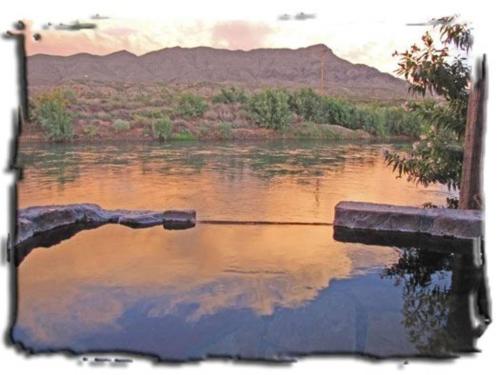 "Since before recorded history, the therapeutic benefits of the hot springs in this area have drawn people here." For more information out fantastic mineral spa water, please visit
Sierra County website
.
Looking for relaxation? Contact us directly for information on discounts to the local hot springs and partnering spas,
Riverbend Hot Springs Spa
and
La Paloma Hot Springs Spa.
Hours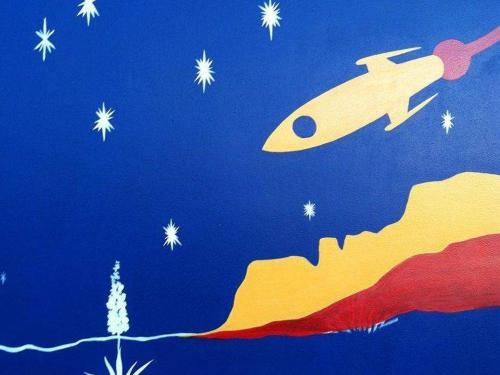 Check in between 3 and 9:30 p.m.
Check out 11 a.m.
Office closed noon to 3, 9:30p - 7am